A Guinea Pig Pride & Prejudice – Our Review
Now as you know, whee don't normally review books. Much like the newspapers whee poop all over they are extremely munchable and usually they are a little too long to keep our attention!
But thanks to this book the little hoomans got Mummy for Pigmas whee have been converted and discovered a literary interest (not just because it's full of pigtures of cute ladypigs but that may be part of it!)
So here is our review of A Guinea Pig Pride & Prejudice.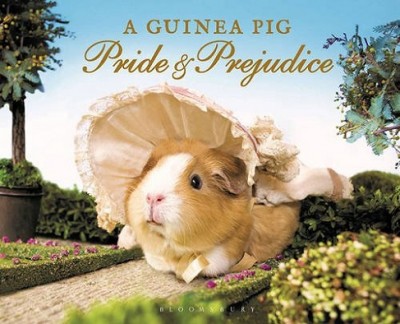 Plot: Based on the novel by Jane Austen (which Mummy is apparently a fan of) this tale follows the story of Elizabeth Bennett as she navigates the apparently complicated world of the British Regency. Only this time she's a rather cute cavy so suddenly a hundred times more interesting in our opinion. If the story is not your cup of tea the guinea pigs in costumes just might be! Whee have to say that whee are rather jealous of a certain "proudest, most disagreeable man in the world". That Elizabeth Bennet is one of the prettiest piggies whee have seen!
Price: It varies but it the RRP is £7.99
Paws Rating: Whee give this solid 9 paws out of 10!
Do you have a favourite book? Also who do you think wore it better:
Whee are definitely going for the beautiful Molly the guinea pig!
Hope you're having a great day efurryone. Squeak soon
Nacho, Noah, Buddy & Basil
xxxx
Posted on May 9, 2016, in Piggy Blogs and tagged cavies, cavy, cute, elizabeth bennet, elizabeth bennet guinea pig, guinea pig, guinea pig blog, guinea pig blogger, guinea pig pride and prejudice, guinea pigs, guinea pigs in costumes, jane austen, jennifer ehle vs molly the guinea pig, molly the guinea pig, pet, pet blog, pet blogger, pets, pets in costumes, pride and prejudice, regency guinea pig, rodents in costumes. Bookmark the permalink. 22 Comments.